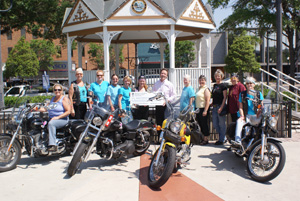 Women In The Wind, a motorcycle organization for women, was founded quite by accident. Becky Brown, from Toledo, Ohio had been riding for three years. She gathered a couple of women together for a ride. A local newspaper heard about these women bikers and wanted to do an article about them. Women riders were quite a novelty at that time. The reporter insisted they needed a name so "Women in The Wind" was born.

That was in 1979. This international organization has grown to 59 chapters and over 1000 women riders since that time. The purpose of Women In The Wind is to unite women motorcyclists with friends of common interest, to promote a positive image to the public of women on motorcycles and educate members on safety and maintenance.

For more information check out 'Who We Are' or contact...



<!br><!bR> WITW Silver River Chapter
witwsilverriver@gmail.com




Copyright © 2010 - Women in the Wind - Silver River Chapter
All rights reserved.